Intelligent Wine Auction Software for the intuitive auctioneer
Are you trying to find a clever online auction platform that may assist you in selling more wine online?
This is how we can assist.
Our wine auction software is personalised with your company's colours and logos and will operate directly off of your own website.
We can be a huge asset to your wine industry as the go-to partner of the contemporary auctioneer.
We have over ten years of expertise assisting auctioneers in realising the full potential of online asset sales. We offer online auction solutions to get you up and running with your first online auction sale within hours without the need to instal or buy any gear, or download apps.
Smart filtering to help you sell more, more often
An auction platform should be straightforward to use and navigate; this is crucial.
Your online bidders can restrict searches based on white wine, red wine, champagne, moscato, hampers, and more thanks to an integrated smart categories system. The fact that you get to choose how finely the filtering mechanism can be tuned is the best aspect.
Pre-bid functionality is included with every webcast auction, allowing online bidders to submit offers before the auctioneer does so. In order to create a fun and immersive online auction experience, they are given complete, real-time audio and video.
For those wishing to run auctions using the timed platform, reserve feedback, smart filtering, bid extension and lot staggering are popular features that bidders have come to know and love.
Our software is built entirely using the latest in HTML5 technologies, meaning that your bidders are free to bid across all modern mobile phones, tablets and browsers without any issues in compatibility. Choose the online auction style that best suits your strategic objectives, whether it's a timed, sealed bid, pre-bid, or webcast sale.
Online auction solutions for your business
🎥 Live Webcast Auctions
⏳ Timed Online Auctions
📈 Marketplace
👩‍💻 Remote Clerking option
✅ Everything you need & will run from your own website
🏷 White Label Auction Software – 'value protect your bidders & IP' ( Not a group site
)
So modern works on all devices without frustrating bidders to download apps
🧑‍💻 Includes Setup, Training & Local Ongoing Support
🧾 Auction invoicing & reporting
🖥 Websites & marketing
😊 Simple for bidders and powerful for auctioneers
So ready to get started?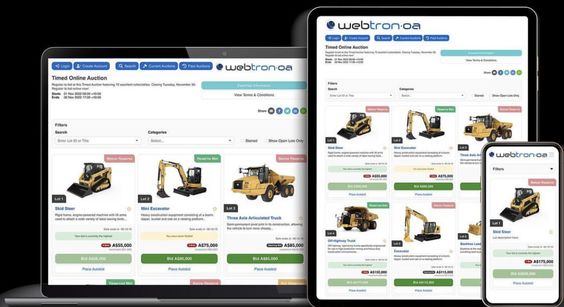 The New Webtron 7.2 Auction Software is here
Take advantage of a white label auction solution that runs from your own website. It has been designed for Wine auctioneers like you to take your online auction business to another level.
There has never been a better time to upgrade your online auction software to Webtron's 7.2 newest auction software release.
It's 'Simple for bidders and powerful for auctioneers'.
Contact us for a demo below!
Sell more wine with online auctions. Ask us how.